A long-term research focus has been to characterize and quantify atmospheric mercury deposition and its fate, transport and effects in the environment. We are investigating spatial patterns of mercury in soil for the coterminous U.S. (Figure 1). We will use data from intensive and regional study sites and the US soil survey to parameterize and test the terrestrial model to improve management simulations.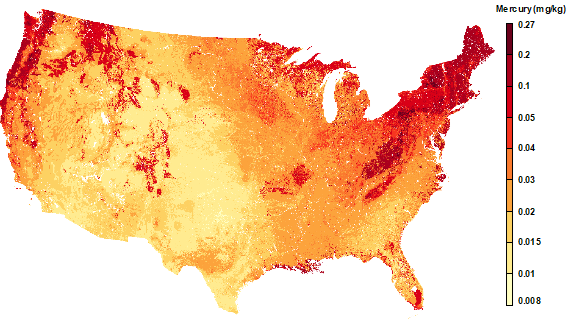 We have additional focused projects on mercury in the environment. With Zhangwei Wang (Chinese Academy of Sciences) we evaluated land-atmosphere exchange of mercury (Zhou et al 2021). With Jackie Gerson (Duke, PhD student), we investigated the effects of artisanal gold mining on mercury contamination to mature rainforests in Peru (Gerson et al. 2022).
Working with Elsie Sunderland (Harvard), we developed a white paper outlining how EPA should characterize and quantify the costs and benefits of controls of mercury emissions from electric utilities (https://www.hsph.harvard.edu/c-change/news/mercury-science-and-the-benefits-of-mercury-regulation/). Although the legal underpinning of Mercury and Air Toxics Standard was eliminated under the Trump EPA, the rule had been implemented resulting in marked decreases in atmospheric mercury deposition particularly in the eastern U.S. over the last decade (Figure 2). We are developing a manuscript describing this policy-relevant work.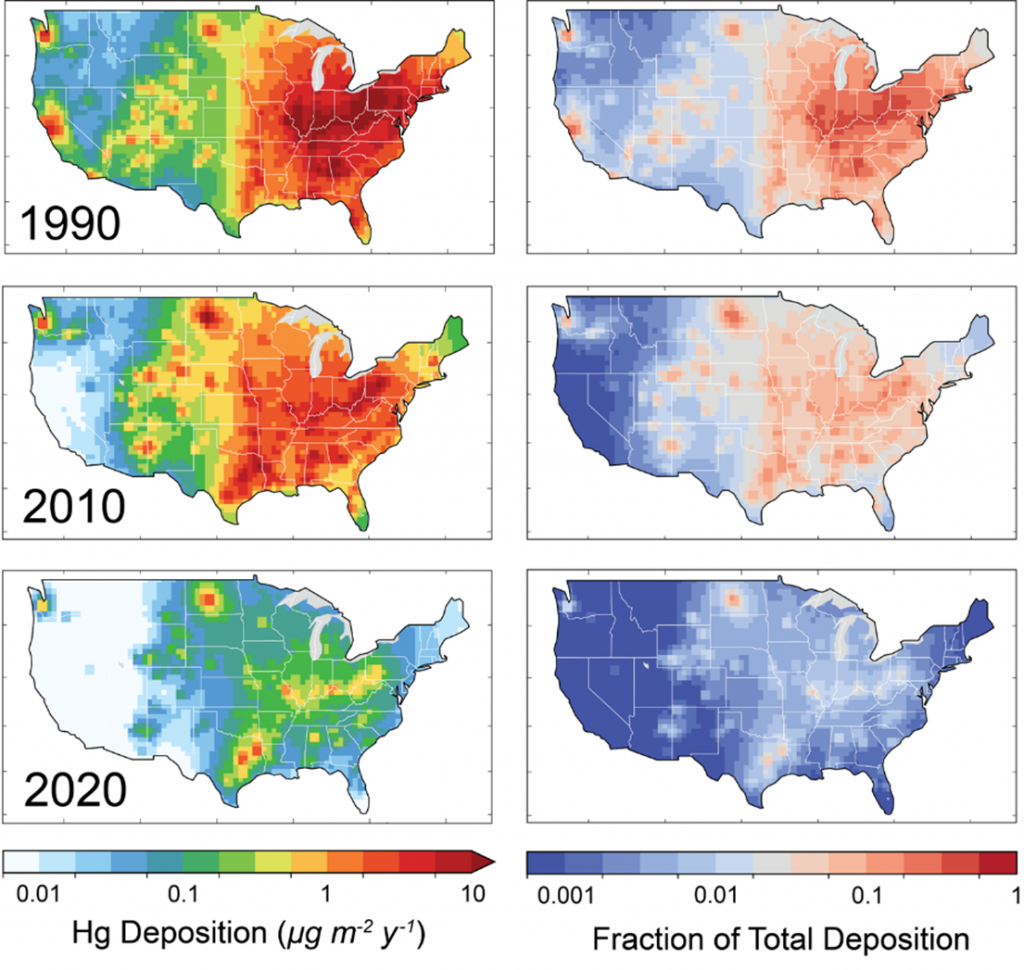 References:
Gerson, J. R., W. Pann, N. Szpona, B. Bergquist, E. Broadbent, C. T. Driscoll, L. Fernandez, H. Hsu-Kim, W. Pan, M. Silman, E. Ury, C. Vega, A. Almeyda Zambrano and E. S. Bernhardt. 2022. Amazon forests capture high levels of atmospheric mercury pollution from artisanal gold mining. Nature Communications. doi:10.1038/s41467-022-27997-3.
Olson, C. I., B. M. Geyman, C. P. Thackray, D. P. Krabbenhoft, M. T. Tate, E. M. Sunderland, C. T. Driscoll. In review. Mercury in Soils of the Conterminous United States: Patterns and Pools, Environmental Research Letters.
Smith, D. B., W. F. Cannon, L. G. Woodruff, F. Solano, J. E. Kilburn and D. L. Fey. 2013, Geochemical and mineralogical data for soils of the conterminous United States: U.S. Geological Survey Data Series, 801. http://pubs.usgs.gov/ds/801/.
Zhou, J., Z. Wang, X. Zhang and C. T. Driscoll. 2021. Measurement of the vertical distribution of gaseous elemental mercury concentrations in soil pore air at subtropical and temperate forests. Environmental Science & Technology, 55(3):2132–2142. doi:10.1021/acs.est.0c05204.